Matthew driving Mark Longmore's 1970 McLaren M10B F5000 to a Pre 1971 Single Seater Class Win & Lap Record at the 2008 Goodwood Festival of Speed.
About Us

Matthew Wurr · MA RCA
Achieved a masters degree in Graphic design at the Royal College of Art. A diverse and very successful career in Advertising Modelmaking and Sculpture followed, but in 2005 he returned to his roots and Matthew Wurr & Co continues as a Design Studio.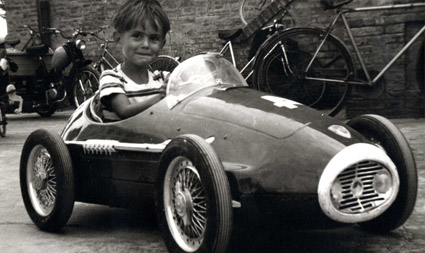 Matthew in his first race car on holiday in Italy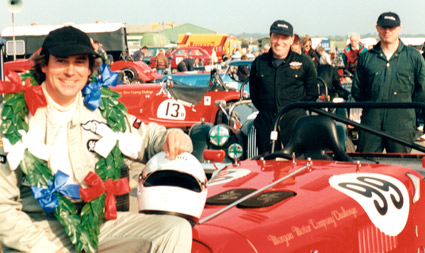 'The Original Team' - after winning the Class A Morgan Championship at Thruxton in 1994
Racing History
Matthew started racing in 1990, first competing in '99 OK' - a highly modified Morgan Plus 8 -
competing
in:
The 750 Motor Club Roadgoing Roadsports
The Morgan Motor Challenge
The BRDC National Sports GT's

The Morgan Challenge - Matthew in a spot of bother on the new Arena GP Circuit Silverstone
750 MC. Roadsports - In the lead at Mallory Park, chased by a pack of Caterhams !
750 MC. Roadsports - Leading two Lotus Esprits & a Porsche Turbo into the Donington hairpin
In 1996 he formed a new team - '
OK RACING
' - jointly owning and successfully competing a TVR in 'The Tuscan Challenge'.
Now, as well as racing the Morgan he is also occasionally competing in
OK RACING
partner's ex Peter Gethin 1970 McLaren M10B F5000.
Achievments to date
64 outright wins and 72 class wins.
Claims to fame
Featured in the 1993 Autosport Yearbook - 'Motorsport Personalities' - placed between Frank Williams and Alex Wurz!
Interviewed on Channel 5's 'Live and Dangerous' and many Motorsport appearances on Sky Sports.
Class winner and record holder in the 'Pre 1971 single seaters' at the 2008 Goodwood Festival of Speed.
Featured and commentated on the BBC's 'Classic Motor Racing comes to Silverstone' audio slideshow production. Click here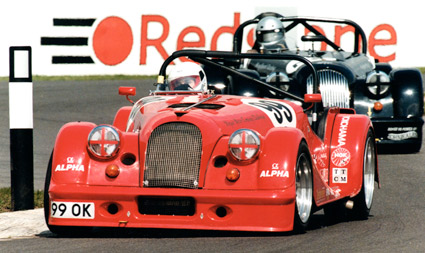 Matthew being tailed by Rick Lloyd on the long circuit at Donington Park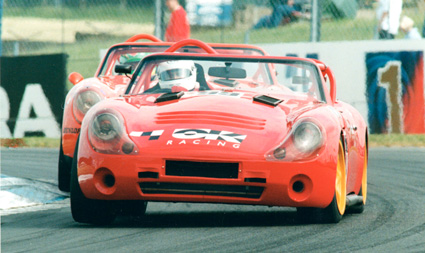 In the TVR Tuscan Race Challenge on the Melbourne Loop also at Donington Park
Mark Longmore · MBA
Studied as an Automotive
Technical
Engineer. He has worked for many years, principally with BTR Engineering (Australia), supplying axles & transmissions to prestige European Sports Cars.