OK RACING - The History

After 5 years of success racing the Morgan plus 8 - '99 OK' and wanting to find a different challenge - Matthew Wurr formed a new team - OK RACING, along with another Morgan racer, Mark Longmore. They purchased the ex Colin Waterhouse TVR Tuscan, fitted a new 'AJP' 450bhp V8 engine and resprayed the car in OK RACING Team colours.
Eager to impress potential Sponsors for 1997, they decided to try to regain the Morgan Class A Championship lost to German ace, Klaus Nesbach in 1995. They also contested the 6 non clashing rounds of the Tuscan Challenge - a very competitive and high profile televised race series, which attracted not only regular Professional drivers such as Motorsport Journalist Mark Hales, Touring Car driver's - Bobbie Verdon Roe, Tim Harvey and Ian 'Fluxie' Flux, but also famous drivers such as ex Formula 1 champion Nigel Mansell, Le Mans winner Andy Wallace, Rally ace Colin McRae and Tiff Needell, who featured his racing in the challenge on the BBC's 'Top Gear Motorsport'.
Despite a very small budget, an overweight and underdeveloped car, they became competitive, commanding more than their fair share of TV coverage.
From a starting line up of nearly 40 cars they finished twice in the top 10. In the last round at Donington, a best place of 6th, in damp conditions, where the lack of competitive (and expensive) suspension set up is less pronounced, proved their potential.
In 1997, a 3rd place finish at Snetterton, was their best ever result, until a crash at Oulton Park required a total rebuild of the TVR. The time and cost involved in this rebuild ended their Tuscan Challenge racing.
There followed a number of years away from motor racing until they both found renewed interest, after Mark's purchase of a Historic Mclaren Formula 5000 which needed total restoration... The experience of both re-building and racing a single seater for the first time, coupled with the familiar thrill from the power of a big V8, resulted in a new enthusiasm for racing '99 OK' again and a desire to extend the scope of OK RACING'S skill base to cover the race preparation of other competitors cars and the development of new, specialist designed and fabricated racing products.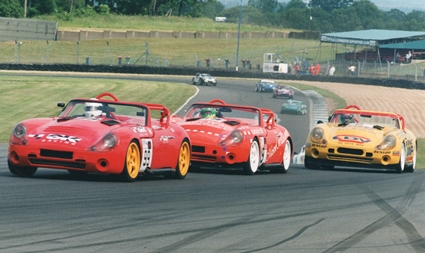 TVR Tuscan - In 6th Place going into Coppice on the Donington GP Circuit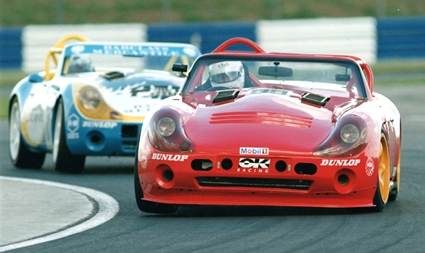 TVR Tuscan - Sporting it's new spoiler on the Brands Hatch Indy Circuit